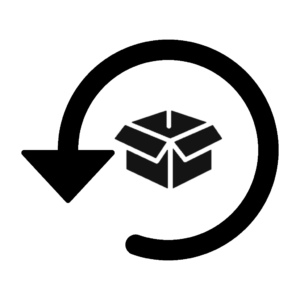 Our Commitment to You
We love our community, and we want you be a happy member of it. That's why we work hard to address any technical issues that you may experience to ensure these solvable problems are not the reason for your disappointment – and if we can't resolve your problem we offer a 30-day money back guarantee on our products.
How We Define "30 Days"
Rest assured, your 30-day money back guarantee begins when you receive your product(s), not the point at which they are shipped. If you find yourself dissatisfied after 30 days from the verified receipt of your order, we reserve the right to offer an exchange, full refund, partial refund, or store credit at our discretion.
Return Policies Outlined by Product
Implants
Customers can request a return within 30 days if the sterile procedure pouch is unopened, and the return must include all included accessories such as Field Detector keychains and the RFID diagnostic card, in original condition.
Custom implant conversions and other custom services
No returns or refunds are accepted for custom work, conversion services, etc.
Electronics and Accessories
Separately ordered electronics and accessories are generally not eligible for return.
Rings
Initiating a Return
To initiate a return within the 30 day time-period, please respond to the order confirmation email within 30 days of physically receiving the product(s) and request a return. Any refunded monies will be issued after deducting the original shipping cost. If you received free shipping at the time of your order, we will communicate what the shipping cost was prior to processing your refund. Please keep the original packaging and use it to return your order. All electronics and accessories that came in your order must be included as part of the return and remain in their original condition.
The shipment must be returned to us at customer's expense
It is the responsibility of the customer, at their own expense, to return the order to us. When returning products to Dangerous Things, be sure to not overpay for postage! For example, sometimes people shipping from within the continental USA have chosen to send products back to us using a small flat rate box, but then pay standard postage rates which are much higher. If shipping with a flat rate box, be sure to pay the flat shipping rate!
In some instances, we can provide a pre-paid return label to ship the order back to us. The cost of this shipping label would also be deducted from your refund. You must access and print this pre-paid shipping label within 48-72 hours of receiving it, otherwise we will need to re-issue a new label, which will delay the return process.
Refunds – When You Can Expect a Refund
If a refund is appropriate, we will issue a refund within 3 days of receiving your returned order. Refunds will not include original shipping charges or the cost of a pre-paid return label if this option was elected.
Return Policy vs. Warranty
This 30-day return policy does not apply to rare situations where an issue with the improper function of an implant, electronic item, or accessory as documented is due to an inherent technical issue or material defect. We always stand by our products, and unless otherwise specified, we offer a "wonder warranty" on all of our implant products and a 90 day warranty on electronic items and accessories.