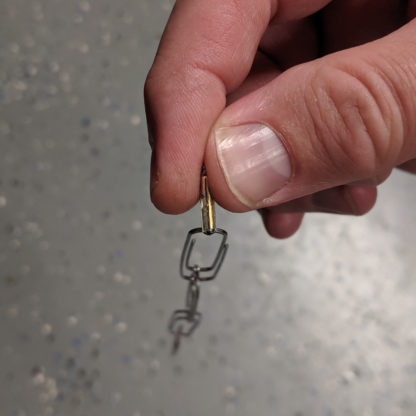 xG3 Injectable Biomagnet (BETA)
WORLD'S FIRST INJECTABLE, CLINICALLY STERILIZED BIOMAGNET
The xG3 is the world's first injectable biomagnet that is also clinically sterile! We have a very limited run of these first beta units available, and we are looking for people who can give us feedback about them on our community forum.
N52+ strength with highest Gauss rating!
3mm x 15mm bioglass encased neodymium magnet
Clinically sterilized in EO gas process
Free shipping* for entire order if you buy the xG3!
*Free shipping for qualified orders. Check our shipping policy for more info.
$129.00
More Details
WARNING This device is definitely a dangerous thing. This device has not been tested or certified by any regulatory agency for implantation or use inside the human body. Use of this device is strictly at your own risk.
The xG3 injectable biomagnet is a world first, three times! First, we solve the lifespan and robustness problems of other encapsulation techniques (silicone, parylene, etc.) by using tried and true Schott 8625 bioglass. Second, it is the only injectable biomagnet in the world that comes pre-loaded in an injection assembly. Third, it is the only biomagnet in the world that is put through a clinically sterile EO gas process! The xG3 has been designed from the ground up for direct and permanent in vivo use. Using 3 special processes – a specialized magnet production process, a precisely controlled glass encapsulation process, and a customized EO gas sterilization process, we are able to make the xG3 biomagnet with the same safe Schott 8625 bioglass coating the rest of our x-series implants use, and sterilize them, all without impacting the magnetic field strength.
Limited quantity BETA program
This is far from our first production run of the xG3 but this is the first run that shows no field degradation between pre-processing and post-processing. We wanted to make these limited number of units available to our customers as a BETA product in order to get feedback. If you do purchase the xG3 and have a professional install it for you, please post your experiences on our community forum so we can determine the xG3 is a viable product worthy of a larger production run.
A word on MRI safety
While we have no evidence that the xG3 is safe or unsafe to have implanted during an MRI scanning process, it seems to reason that a magnet is not a good idea to have anywhere near an MRI machine. If you need an MRI scan, it would be best to remove the xG3 before the scan.
Special thanks to Cooper Lee for his assistance with the xG3!