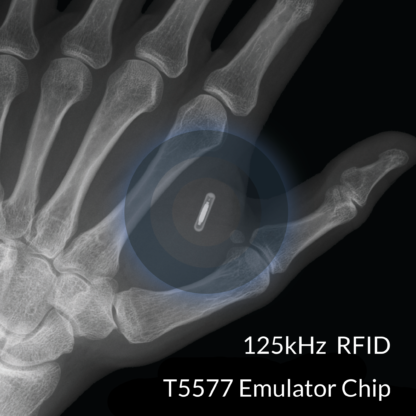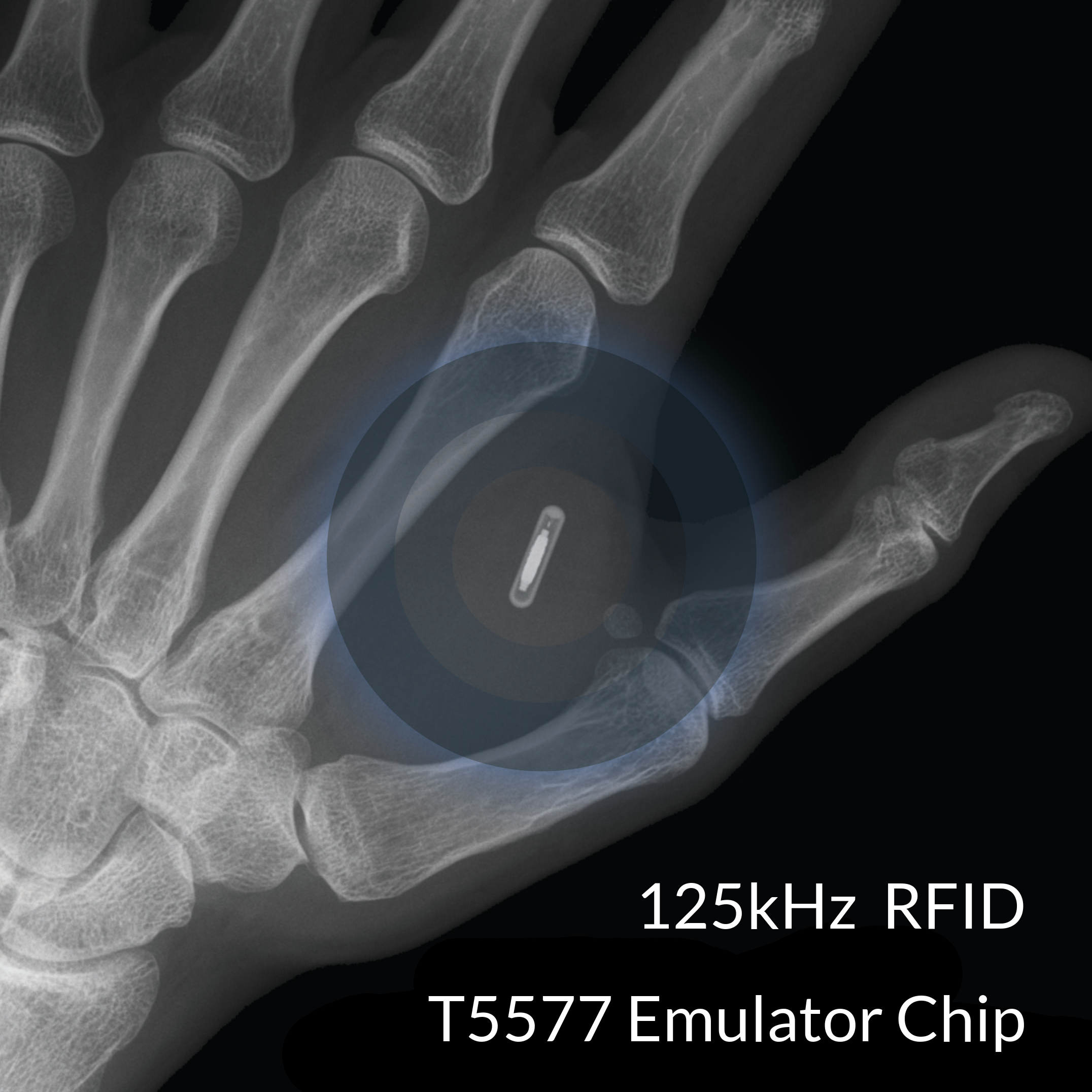 xEM RFID Chip
2x12mm bioglass encased 125kHz Atmel T5577 RFID chip
Can emulate common EM41xx, EM4200, HID, Indala (and more!) chips
Proxmark3 can clone common 125kHz badges, fobs, cards, etc. to the xEM!
xEM chip is preprogrammed in EM41xx mode with a 40 bit unique ID
Biohacking Tech Primer
Pro Installer Map
$49.00
More Details
WARNING
This kit definitely contains dangerous things. While our x-series chip implants have undergone several quality checks during manufacture, and have been put through a battery of tests, they have not been certified by any government regulatory agency for implantation or use inside the human body. Use of this device is strictly at your own risk.
The xEM implant contains a 125kHz T5577 RFID chip emulator that can behave like many different common low frequency chip types, including EM41xx, EM4200, HID 1326 ProxCard II, HID 1346 ProxCard III, Indala, Pyramid, Viking, AMV, Presco (and more) access cards and keyfobs. The xEM is a great introductory chip for people just getting into RFID projects. It is compatible with many inexpensive OEM and commercial low frequency RFID readers and stand-alone access controllers like our xEM Access Controller. Check out our video explaining how the T5577 works.
What can this chip implant do?
• Copy other LF chip IDs to this chip
• Some types of access control applications
What this chip implant can't do
• Share data with NFC enabled smartphones
• Trigger events on NFC devices like smartphones
• Scan this chip implant to log into your computer
• Can't make payments with this chip implant
• Chip implants can't be used for GPS or tracking
Important Things To Know
It's going in your body, you should learn about things like performance expectations, installation procedure, first steps after installation, etc.

xEM Kit Contents
The xEM kit contains the following products and materials, which are designed to enable you to bring the kit to a professional installation partner for installation.
1 sterile injector assembly, pre-loaded with xEM chip implant
2 single use ChloraPrep antiseptic wipes
1 sterile gauze pad for post-installation wound care
1 sterile expandable-fabric adhesive bandage
1 pair of non-sterile, non-latex procedure gloves
xEM Kit Extras
The following accessories also come with the xEM Kit. These accessories are "field detection" tools designed to assist you with identifying the type of readers you may encounter, but also the best location and orientation to present your xEM chip implant to any reader to get reliable performance.
1 RFID Diagnostic Card
1 125kHz X Field Detector
Our X Field Detectors (XFD) will show you the best position and orientation to present your chip implant to any readers of the same frequency, while our RFID Diagnostic Card will tell you all about the frequency and duty cycles of random readers you encounter in the wild.

A review of the RFID Diagnostic Card & X Field Detector devices
Example Use Cases
xEM Garage Door Opener
xEM Motorcycle Ignition
xEM Secret Wall Safe